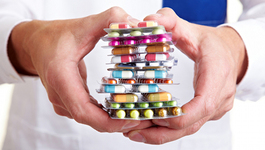 In our
previous installment
, we promised to start delving further into some specific strategies for obtaining the best value for your hard-earned healthcare dollars. This month, we will be taking a closer look at cost-saving on the most common healthcare intervention: prescription drugs.
The 2013 Mayo Clinic study found that approximately 70 percent of Americans take prescription drugs, with antibiotics, antidepressants and painkillers being the most commonly prescribed. Another study, carried out by the American Chemical Society in 2012, reported that high blood pressure medications were holding the number one spot in terms of overall prescriptions written. Be it as it may, it is obvious that the majority of people in the United States will be prescribed at least one medication at some point of their lives. Many of these people will have to pay cash for their medications. While the general feeling is that medications are overly expensive in the United States, the truth is that there are wide variations in retail pharmacy pricing, and savvy consumers have many effective means at their disposal to control the cost of their prescription drugs.
Below we list some suggestions to help you make cost-conscious decisions when facing the need to pay for your medications out of pocket. Some disclaimers are in order: our
house call medical practice
does not endorse any specific company or website, and we do not benefit financially from any of them. Always discuss all your medications with your treating doctor, and never use other people's medications without a prescription. Also, we do not advise buying your medications from any websites that claim that "no doctor's prescription is necessary", and we cannot recommend using foreign-based online pharmacies. Finally, we do not guarantee that these suggestions will work all the time for all the patients. As the famous saying goes, "your mileage may vary".
With these caveats in mind, we present our top suggestions for saving money on your prescription medications:
Always ask your doctor about potential costs of the medications prescribed to you. If there is a choice, insist on generics. If the medication prescribed is brand-only, ask if there is an older medication of the same class that is available as a generic. Your doctor should be able to explain all the pros and cons, as well as alternatives, of any medication that he or she is prescribing to you; after all, this is all part of the informed consent to treatment.
If your prescription is for a generic medication, check the Walmart or Target 4-dollar drug list first to see if yours is included. These two companies created nothing short of a cash-based revolution in pharmacy retail by offering many generics for the price that is generally lower than most insurance co-payments. And, by the way, you are not obligated to use your insurance for buying medications if paying out of pocket would cost you less than your insurance co-payment.
If your medication is not on the 4-dollar list, do not despair! A useful website cleverly named GoodRx offers a treasure trove of discounts and coupons for many common medications. Again, you are much more likely to see most significant savings if you can get a generic version.
If your medication is brand-only, ask your doctor for samples and/or manufacturer's coupons. In addition, there are various payment assistance programs for people in need, some based on specific conditions being treated. For an in-depth listing of these programs, browse this healthfinder.gov site from the US Department of Health and Human Services. Another useful site to research various payment assistance programs is RxAssist; this organization also offers its own prescription discount card.
Ask your doctor if your prescription pills can be split. For example, if a doctor prescribes you a 50-milligram dose of a hypothetical medication, ask if you can receive a prescription for 100-milligram pills and split them in half. Generally, pills that are scored by a manufacturer can be split in half. Obviously, you will need to check whether the increased price for the higher dosage will make it worthwhile. However, keep in mind that most extended- or sustained-release medications, as well as capsules containing powdered or pelleted substances, should never be split.
We hope that you will find these suggestions helpful to your health and your budget. And please remember: if you do not research and do not ask, chances are that you may be paying too much for your prescription medications!