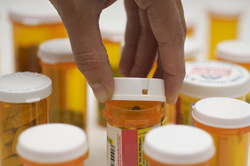 Many patients are on multiple medications, supplements and natural remedies, but it is not often that their doctors would sit down and go over the entire list with them. In fact, it is not rare for several different doctors to write separate prescriptions for the same patient, and sometimes nobody checks the whole medication list. However, the importance of knowing and properly managing all of patients' medications cannot be stressed enough.
Unfortunately, problematic and even toxic combinations in the patients' medication regimens are not uncommon, and can lead to serious side effects and even death. One large study of patients aged 65 and older found that 20 percent filled at least one prescription for an inappropriate medication. Another study reported that prescription-related drug problems result in about 119,000 annual deaths in the United States.
Dr. Gary Berlin
of
Carmel Care PLLC
prides himself on reviewing all of his patients' medications and supplements carefully, and pinpointing any possible problems or interactions. He goes above and beyond just dealing with the immediate problems and, instead, looks at the patients' overall health and medication routines.
Too often, doctors in hospitals and large practices tend to overlook these important aspects, especially since the Affordable Health Care Act is projected to increase the number of patients and, therefore, decrease the overall quality of care. The increase in demand puts a rush on every appointment, as doctors struggle to fit in everyone, and important details such as problematic medication combinations are sometimes overlooked. According to the National Association of Pharmacy Regulatory Authorities (NAPRA), medication errors are usually due to the following:
disorganized work flow
fatigued staff
frequent interruptions and distractions
poor physician handwriting
emphasis on volume over service quality
stress
ineffective communication with patients
improper technician training
a pattern of inadequate staffing
With a
house call concierge doctor in Dallas
such as Dr. Gary Berlin, you can rest assured that your medications, supplements, and other remedies will be reviewed to achieve the safest combination, and that you will receive the time and attention you deserve. Call Carmel Care today at 1-888-227-6352.