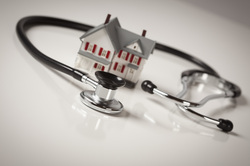 With the looming shortage of physicians and the implementation of the Affordable Care Act in the next few years, it is predicted that there will be a decrease in the overall quality of care provided to patients. With so many newly insured people, patients may find it difficult to schedule appointments with their doctors when ill or when in need of routine care.
However, direct-pay house call practices such as Carmel Care offer extraordinary levels of personal attention to their patients. Dr. Gary Berlin shows genuine interest in his patients by personally making follow-up telephone calls to check up on them in one or two days after a house call visit. Patients in a concierge practice can expect that their doctor will be readily available after the visit to answer any questions and allay any concerns. Aside from personalized care and genuine interest in their patients, concierge doctors such as Dr. Gary Berlin offer the following benefits:
Carmel Care offers patients same-day or next-day appointments, with convenient access to contact the doctor with any questions or concerns. With Dr. Berlin, patients can avoid crowded waiting rooms, germs and long waits for appointments that are all too common in today's healthcare system.
Opportunity to build a relationship
Did you know that a traditional medical doctor can have up to 3,000 patients enrolled in his or her practice? Because a concierge doctor has fewer patients, he or she can build a relationship with each, thereby increasing their trust in and comfort with the doctor. This also means that concierge doctors are well familiar with a person's medical history, and thus can make diagnoses and recommendations quickly.
Care in the comfort of your own home
As previously mentioned, waiting rooms are often crowded, filled with germs, and come with frustrating wait times. Medical care in the comfort of a person's home provides unmatched convenience and helps reduce stress and the likelihood of getting sick from other patients.
A house call doctor is a great option for those looking for an unparalleled level of care from their physician. If you are looking for personalized at-home care, along with other great benefits of concierge medicine,
contact Carmel Care today
for
urgent medical house calls in Dallas
.