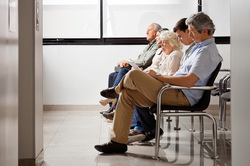 President Obama famously promised that if you like your doctor, you can keep your doctor. However, this turns out to be a false, misleading promise, along with the promise that if you like your plan, you can keep your plan. In fact, the Obamacare health plans that are being offered on the exchanges exclude a number of doctors and hospitals, and patients are being told that in order to keep their doctor or plan, they can pay extra for it.
In reality, those who want to keep their doctor will be forced to pay more for a health plan that covers their doctor. Ezekiel J. Emanuel, an American bioethicist and Obamacare architect,
said in a recent interview
, "People are going to have a choice as to whether they want to pay a certain amount for a selective network or pay more for a broader network." This means that premiums will mostly go up for those who choose to keep their doctor, as many physicians and hospitals will suddenly be excluded from insurance networks. When Chris Wallace, host of Fox News said, "The president guaranteed me I could keep my doctor," Emanuel replied,
"And if you want to, you can pay for it."
The Affordable Care Act will not make health insurance any more affordable, and choices of those buying into such plans may be even more limited than ever.
More and more patients are estimated to opt for a direct-pay doctor
due to the value that is far above and beyond anything that can be provided by health insurance. It's important, according to Dr. Berlin, that everyone has some kind of a catastrophic coverage in case of hospitalizations, major surgeries, etc. However, in the matters of regular health care and even minor emergencies, a private, direct-pay doctor is the best value for your money and time.
Aside from limited plans and lack of affordability, there is a multitude of other problems associated with Obamacare that is expected to increase concierge medicine popularity. The
Association of American Medical Colleges
estimates that there will be a shortage of 91,500 doctors by 2020 as the Affordable Care Act is implemented and 30 million Americans suddenly become eligible for health insurance coverage. With so many newly insured people, previous patients might find it difficult to schedule appointments with their doctor and won't receive the same type of personalized care or relationship that they are used to.
So is the Affordable Care Act really more affordable? For those looking to keep their current plan or doctor, the answer is most likely "no"… they will have to pay extra to receive the care they want.